Shopping Cart
Your Cart is Empty
There was an error with PayPal
Click here to try again
Thank you for your business!
You should be receiving an order confirmation from Paypal shortly.
Exit Shopping Cart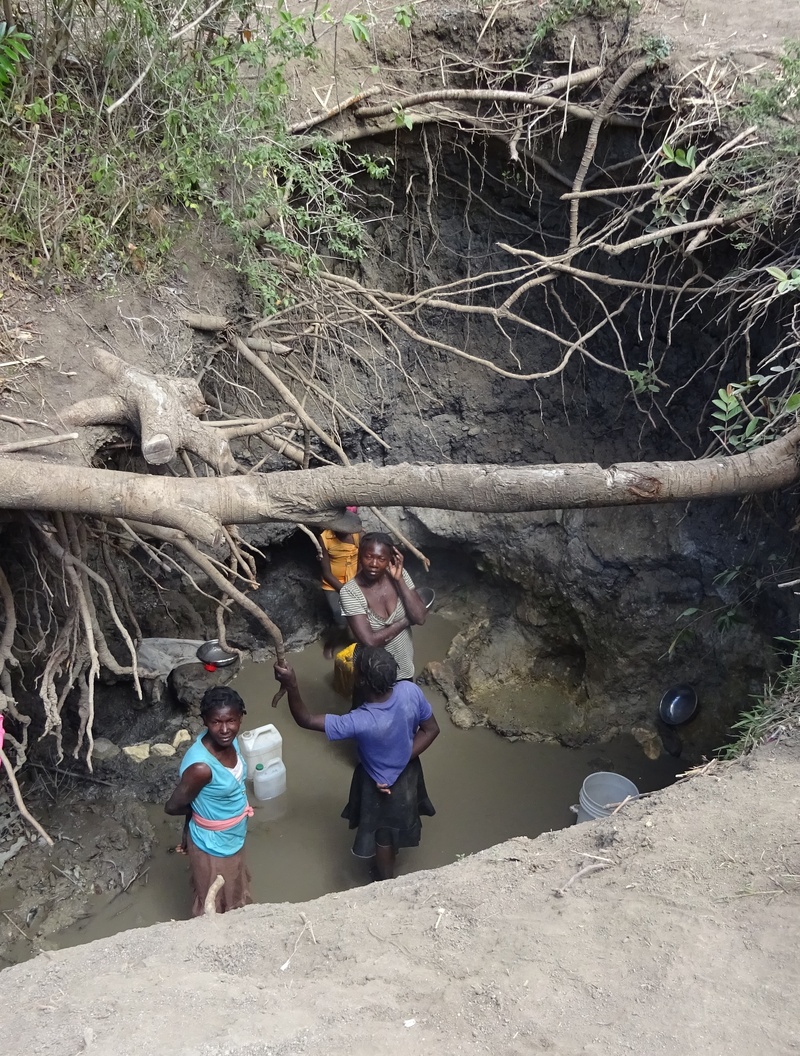 By Susan Lea Smith, United Church of Christ Member of international Reference Group Ecumenical Water Network World Council of Churches
I went to Haiti over Spring Break and Holy Week. I visited water systems we had funded in Carre Savanne, Pedosant and Te Kase. But the place that stole my heart and burdens my soul is a place called Wagouma.
Wagouma is an area high in the mountains of Haiti, halfway between Hinche, the capitol of the Central Plateau, and the border of the Dominican Republic. You will not find the name "Wagouma" if you look for it on a map of Haiti. Instead you must search for the place, not too far from the town of Cerca La Source, where there is nothing, where the map shows not a single town or road. That is Wagouma.
The way to Wagouma is long and hard. Once we left Hinche, headed east towards Thomasique, we left the main road to wind up a verdant valley. When we reached the top of the valley, we headed off towards the top of a neighboring mountain. And beyond that mountain there were more mountains. Wagouma is the sort of place that gives rise to a Haitian proverb you may have heard, "Deye moun genyen moun," the mountains have mountains, an analogy that speaks of the difficulty of everyday life in Haiti. Just as one climbs to the top of a mountain, one sees more mountains because the mountains have mountains.
But we climbed those mountains too. My friend and translator, Maccene, joked in Creole that our truck was climbing a palm tree. Then the path we were following grew steeper and rockier and Maccene exclaimed "Mis a'mi!" roughly translated as "WOW!" -- "now we really are climbing a palm tree."
The "road" we were following was a boulder-strewn gully. For a while it had been a narrow motorcycle trail with donkey prints on either side. Now it had become a single file donkey trail, but still our truck, under the command of our expert driver Zhak, climbed higher up the palm tree.
Finally, even Zhak could drive no further. It was time to "alle a pil," to go on foot. Led by our two guides from the community, we walked, Maccene the translator, Markendy Labedy the engineer in charge of building water systems and I. We hiked over two more hills, just 15 or 20 minutes, at a pace that left me panting…but that was little more than a stroll for our guides.
The first "souse" or spring we came to was brown with muddy water. The woman at the spring was attempting to enlarge the hole into which the spring seeped from the rock above. She bailed and bailed, moved some mud aside, and bailed again for another 10 minutes. Her two children pushed the water she bailed down the hill to prevent it from draining back. Eventually we could see a small trickle of clean water into the hole, but it was clearly too small a spring to invest in capping. But she and her children used a small bowl to scoop water to pour into their buckets. At least that day, they would walk home with precious water to drink and use for cooking.
The next spring was another 10 minute walk away. It was similarly disappointing, too small to justify capping.
Finally, after another 10 minute hike mostly downhill, our guides led us to the main spring in the region. It is the only perennial spring in the area, a spring that never dries up, even at the end of the dry season, which ironically coincided this year with Holy Week. The spring was not huge by any means, nothing like the rich springs of Natapo and Pedosant that I had visited earlier in the week. It was sufficient, however, to allow a full two quart bowl of water to be filled, time after time. And the water was clear.
It was clear, but it is not clean. The spring is located at the bottom of a 15 foot hole that has formed in a gully. At the bottom where the spring lies, the people can enter the spring area and secure water. Unfortunately, not just people enter that area, the people also bring their donkeys, bulls, cattle, goats and pigs to drink, for their animals have nowhere and nothing else to drink. The spring in Wagouma serves 14 communities with an estimated 700 families (about 4000-4500 people) and their livestock. Women and children walk as much as four hours to the spring, driving donkeys with water buckets dangling off their sides or bulls with water buckets hung on their horns. Then they wait to fill their buckets, sometimes hours. Finally, they return home after another four hour walk. This is their daily routine during the six months or so of the dry season from October to March. During the rainy season, they can draw water from tiny springs far closer to home.
The water at Wagouma is clear, but not clean, because it is contaminated both by animal waste and by the shared means of filling water buckets. Before, just a few years ago, only children died of the diseases communicated through dirty water. But then cholera came to Haiti and since then adults, young healthy adults, die also. So far more than 400 people from Wagouma have died from cholera. The traces of their deaths are found in the slight mounds along the side of the road, ringed with rocks. The most recent deaths in Wagouma were just three months ago, when three members of a family succumbed to cholera, no doubt contracted through this dirty water.
Bassiles St. Jean is a community organizer, or animator, with the Peasant Movement of Papay, known as MPP, which is the Haitian peasant organization that builds clean water systems using the funds we provide. When Bassiles speaks about the desperate plight of Wagouma, he has fire that lights up his dark Haitian eyes. Knowing that I speak Creole very poorly, he is still too impatient to wait for his words to be translated by Maccene. His eyes demand my attention. And his impassioned rapid fire Creole words need no translation. MPP must protect this precious spring now so that no more will die from dirty water.
Apart from the 400 cholera deaths in the last three years, perhaps 80 children die each year from the dirty water. If we could fund a spring cap and reservoir at Wagouma, we could save at least 2000 lives over the life of the system – at a cost of less than $10 per life. Ten dollars.
I came to Wagouma on Good Friday. When I measured the need of the people of Wagouma against the money we saved this year for clean water, I felt an overwhelming sense of despair, a sense that perhaps good would no longer triumph, that we no longer had the ability to be the hands of God for these people. We are thousands of dollars away from providing a single spring cap this year. And with deep angst, I wondered whether I was simply the bearer of false hope to these people who keep assuring me that our work and my presence is proof of God's love.
When I arrived home on Saturday night, I admit I was still in that midst of that despair. But, then I came to church on Sunday, and found that contributions to the Pure Water Fund were continuing to trickle in. And, the stone rolled away from the tomb. I experienced the resurrection of hope that comes from being amidst all of you. With God's help and your willingness to dig deep for dollars, I live in the hope, the Easter hope, that we will indeed be the instruments that God uses to transform the lives of the people of Wagouma.
If you want to help fund the spring cap and reservoir at Wagouma, please send a check to 1st Congregational UCC, 700 Marion Street NE, Salem, OR 97301. Put PURE WATER FUND in the memo. 100% of funds donated to the PURE WATER FUND are used for project costs like cement and masons. And they are tax deductible.
Susan
Categories: None
/