Shopping Cart
Your Cart is Empty
There was an error with PayPal
Click here to try again
Thank you for your business!
You should be receiving an order confirmation from Paypal shortly.
Exit Shopping Cart
I just visited three water systems built by Mouvman Peyizan Papay (MPP) in communities on the Central Plateau of Haiti.  The first is on the plateau north of Bassin Zim -- the Tinnenen spring in Carre Savanne.  The system consists of two spring caps and reservoirs that are connected and two faucets on the lower reservoir.  When I visited, it was the very end of a very dry season.  Although the water level was below the faucets, the community could still obtain precious clean water by dunking their buckets in the well.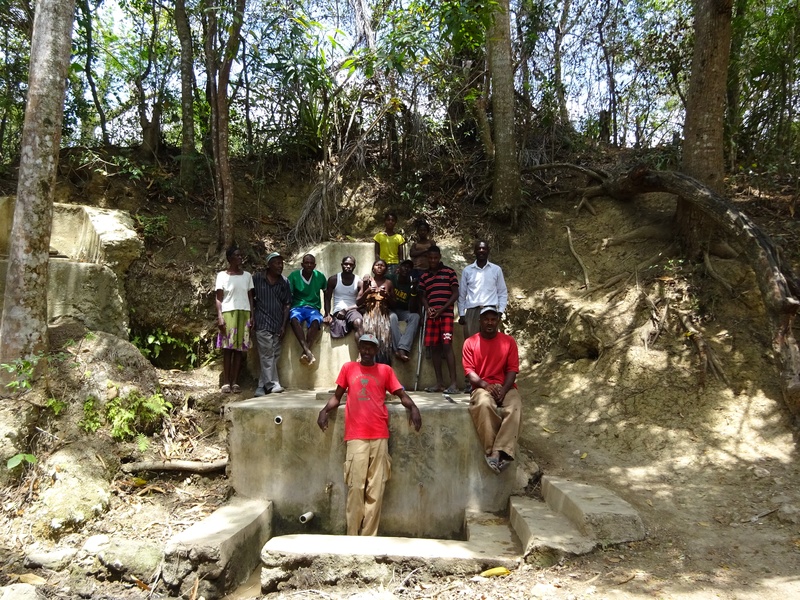 | | | | | | | | | | | |
| --- | --- | --- | --- | --- | --- | --- | --- | --- | --- | --- |
| | Detect languageAfrikaansAlbanianArabicArmenianAzerbaijaniBasqueBengaliBelarusianBulgarianCatalanChinese (Simp)Chinese (Trad)CroatianCzechDanishDutchEnglishEsperantoEstonianFilipinoFinnishFrenchGalicianGeorgianGermanGreekGujaratiHaitian CreoleHebrewHindiHungarianIcelandicIndonesianIrishItalianJapaneseKannadaKoreanLaoLatinLatvianLithuanianMacedonianMalayMalteseNorwegianPersianPolishPortugueseRomanianRussianSerbianSlovakSlovenianSpanishSwahiliSwedishTamilTeluguThaiTurkishUkrainianUrduVietnameseWelshYiddish | | AfrikaansAlbanianArabicArmenianAzerbaijaniBasqueBengaliBelarusianBulgarianCatalanChinese (Simp)Chinese (Trad)CroatianCzechDanishDutchEnglishEsperantoEstonianFilipinoFinnishFrenchGalicianGeorgianGermanGreekGujaratiHaitian CreoleHebrewHindiHungarianIcelandicIndonesianIrishItalianJapaneseKannadaKoreanLaoLatinLatvianLithuanianMacedonianMalayMalteseNorwegianPersianPolishPortugueseRomanianRussianSerbianSlovakSlovenianSpanishSwahiliSwedishTamilTeluguThaiTurkishUkrainianUrduVietnameseWelshYiddish |   | | | | | | |
Text-to-speech function is limited to 100 characters
Categories: None
/